"The Oasis of Bangkok"
Shanti Lodge Bangkok is a family-oriented guest house offering you a much-needed escape from the busy streets of Bangkok. Uniquely designed, this guest house has a rustic mosaic atmosphere delivering a quaint & relaxed ambience which you are sure to enjoy!
The surrounding environment is encompassed by large trees and potted plants keeping the city at bay. It also hosts an indoor fish pond & waterfall incorporating elements of Feng Shui, nature's balance & tranquillity.
Shanti Lodge Bangkok is situated in Thewet, the heart of 'old Bangkok' and is only a 15 minute walk from the infamous Khaosan Road. This family-oriented guest house is located in a low-impact tourist area, so you get to experience a more relaxed slow-paced side of Bangkok. In addition to being comfortably located out of reach from Khaosan Road's loud and noisy speakers, Shanti Lodge Bangkok is by no means inaccessible to travellers. There are multiple forms of public transport which are conveniently located to the guest house and travel to them only takes several minutes.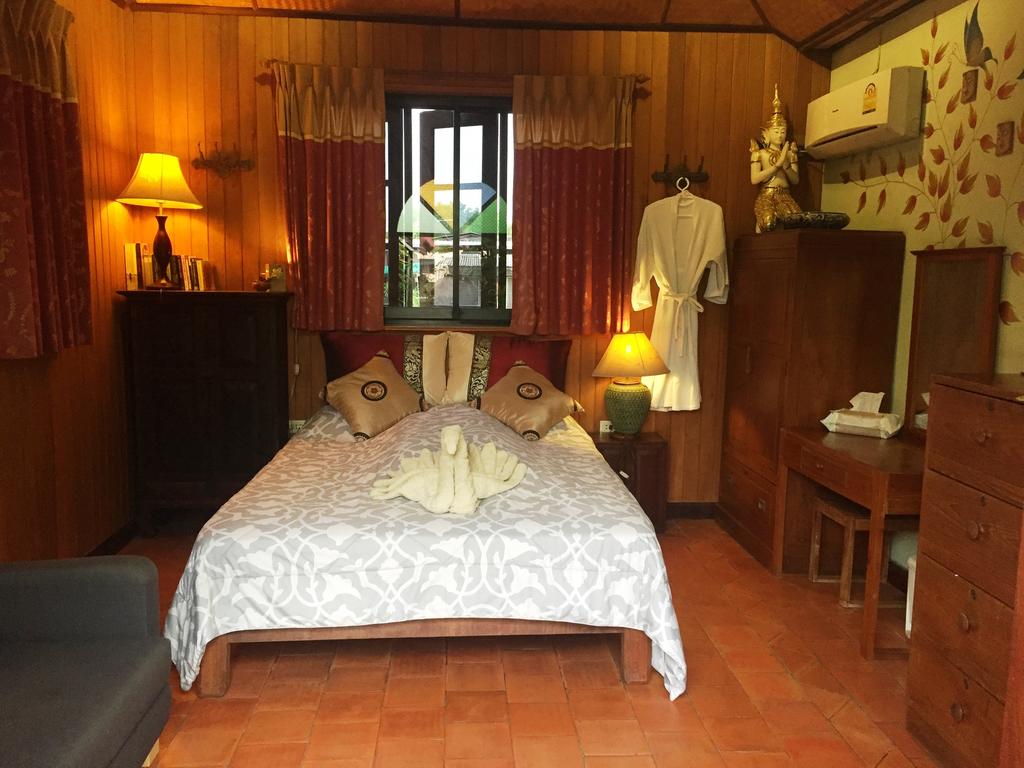 The restaurant is renowned for its absolutely delicious and extensive vegetarian menu, but it also serves fresh seafood and clean meat options for those who enjoy meat in their meals.
Stating that Bangkok can be overwhelming is putting it lightly. However, when you choose to stay here at Shanti Lodge, you will always have a sanctuary to come back to. A place to chill, listen to good music and relax in the restaurants serene setting.
Things to do in Bangkok
Bangkok is absolutely full of things to do for both the short-stay backpackers and those spending a little longer to explore the entirety of Bangkok city!
Optimally located for holidaymakers, Shanti Lodge is surrounded by some of Bangkok's most visited ancient tourist destinations. There are a number of cultural areas travellers can visit such as; Wat Pho, Wat Arun, Vimanmek Mansion, The Dusit Throne Hall and, The Grand Palace. All and more of these cultural hot-spots are easily accessible from Thewet Pier with the average travel time being merely 15-20 minutes.
For those who have "been there & done that" and would prefer to indulge in their shopaholic needs whilst in Bangkok, there is a multitude of options available both nearby and far away. From massive shopping centres like; MBK, Platinum, & Siam Paragon packed with gifts, souvenirs and high-end luxury brands to large and local markets such as; Chatuchak & Ratchada Train Market filled with thousands of stalls selling almost everything you could imagine.
If the mentioned activities aren't of any interest and you're here to party. You'll be glad to hear that Bangkok hosts one of the most vibrant and hectic nightlife scenes in the world. Khaosan Road is one of the most popular party areas in Bangkok and it is only a short walk from Shanti Lodge, do be aware that this destination is one of the more rowdy strips in the city. If the disorderly Khaosan Road is not what you're looking for, Bangkok is also filled with Night Clubs, Sports Bars, Comedy Clubs and much more!
Check out our Things To Do in Bangkok page for our ever increasing list of things to do.
ที่อยู่: 37 ถ. ศรีอยุธยา แขวง วชิรพยาบาล เขตดุสิต กรุงเทพมหานคร 10300
โทรศัพท์: 02 281 2497
เว็บไซต์: https://www.shantilodge.com/page/guest-house-in-bangkok